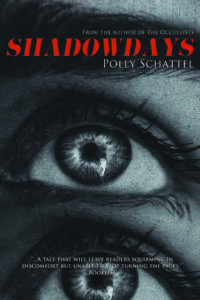 Shadowdays
Polly Schattel
JournalStone (January 28, 2022)
Reviewed by Andrew Byers
Shadowdays is a deep and disturbing character study of a nurse named Melissa Sweet. Three years ago, she accidentally killed an infant in her care by giving him the wrong dose of medicine. While she was ultimately acquitted, her life was never the same: she lost her job and spiraled into a deep, dark depression. Now, she feels well enough to start working again after her terrible mistake, this time at a clinic treating drug addicts. She has a loving fiancé Jack and has moved out of her mother's home, where Melissa also lived with her mentally disturbed brother. Things are looking up, and it seems like Melissa's life is on the mend. Then an unthinkable and shocking act of violence happens in Melissa's life and unsettles everything. She is thrust from a wounded-but-recovering life to one where she's being hunted by implacable forces bent on doing her and everyone close to her harm. Melissa has to decide how to respond to this brutality. Every action she takes seems to sink her deeper into a cycle of violence, all in the name of a vendetta that she can't understand. What is going on? Why are terrible things happening to Melissa and those closest to her?
Because much of the impact of Shadowdays relies on some mid-novel plot developments that really come into play in the second half of the novel, I am forced to be a bit coyer than I'd prefer out of fear of spoiling you about some major plot elements. Suffice it to say that I have only scratched the surface of Melissa's travails and what she is capable of.
We're thrust deeply into Melissa's perspective on the world and that's a satisfying journey. Obviously a novel like Shadowdays depends on the strength of the characterization and the sense of verisimilitude that Schattel creates, despite the savagery and disorientation of both Melissa and the reader. Fortunately Schattel is a wonderful writer. Melissa and those closest to her are fully realized characters, their struggles and existence genuine, though never humdrum.
Melissa's situation, and that of those around her, starts spinning out of control, going from bad to worse to sheer terror, and Schattel captures that sense of disorientation perfectly. The reader is discomfited and unsettled along with Melissa. Violence comes fast, almost out of nowhere. I can say that Shadowdays has a gutpunch of an ending. You'll see it starting to move in that direction in the novel's climax, but it will hit you like a runaway freight train when it does.
Polly Schattel was a new author to me, but I'm pleased to say that I've discovered a new favorite. As dark as this one was—perhaps because of that—Shadowdays was a lot of fun. Recommended.