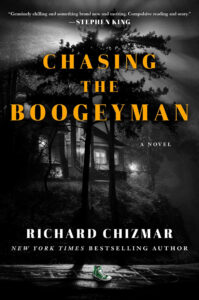 CHASING THE BOOGEYMAN
Richard Chizmar
Gallery Books (August 17, 2021)
Reviewed by Ray Palen
Richard Chizmar understands what scares you. He has been writing and editing horror stories for years and runs one of my favorite magazines, Cemetery Dance. I'm sure he would be the first person to state, after his firsthand experience with the killer labeled The Boogeyman, that there is nothing quite so scary as a human monster.
The setting of CHASING THE BOOGEYMAN is summer and fall of 1988 during his reign of terror. Rich Chizmar was just out of college and remembers it well. For the citizens of Edgewood, Maryland, this was their time of darkness. Every town has a haunted house, and they had the Meyers House.
Chizmar was helping some friends move when he first heard the news that Natasha Gallagher had been killed. These things did not happen in Edgewood, especially to innocent fifteen-year-old girls. There was also a bizarre image written in blue chalk in front of the Gallagher house that resembled a hopscotch grid. Symbols will end up being a big thing for the Boogeyman to tell his evil story. The next victim was Kacey Robinson. Like Natasha Gallagher before her, Kacey had been posed in death.
As Rich Chizmar was attempting to write down all the details of the Boogeyman case, he had the distinct feeling he was being watched. He admitted that he had never again known with such certainty that he was in the presence of pure evil. When Madeline Wilcox became the next victim, the coroner found five pennies lodged in her throat. Payment for Charon the Ferryman, or something more sinister?
One of the sickest things about The Boogeyman was the homemade mask he wore. It looked like a burlap sack with slits in it and a button that could take the appearance of an eye. There are photos throughout the novel, and I got a look at this frightening mask, and it reminded me of the mask that David Cronenberg wore in the Clive Barker film "Night Breed." If you recall that image, you will understand what I am talking about. Halloween arrived with more than just trick or treats. Edgewood also was delivered the body of Cassidy Burch, still partially clad in her Little Red Riding Hood costume.
Chizmar and Detective Lyle Harper make a personal pact to never give up on chasing the Boogeyman. When Chizmar receives a phone call in September 2019 from his old friend and journalist Carly Albright, he is shocked to hear her state: "They caught the Boogeyman." I will reserve the reveal of his identity for the reader to find out; just recognize that the individual that the police have in custody claims he will only speak with one person—Richard Chizmar. CHASING THE BOOGEYMAN is the scariest thing Chizmar has ever written because it is real, and the opportunity for becoming a victim of this evil killer is always a reality. A tense and gripping read from start to finish.