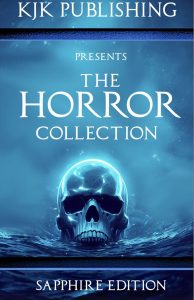 THE HORROR COLLECTION: Sapphire Edition
Natasha Sinclair, editor
KJK Publishing, 2022
Reviewed by Mario Guslandi
Here's the latest volume of The Horror Collection, featuring nineteen short stories exploring further the various aspects of the horror genre. At least in my (digital) review copy there are no biographical data about the various contributors, which is a shame, because most of them are totally unknown to me and I would like to know more, especially about the authors of the best stories.
The average quality of the included stories is good enough, but, obviously, some tales stand out as particularly appealing.
"The Noose" by Nick Roberts is an excellent horror western where the ghost of a little boy saves his own murderer, while "Cursed" by RA Sargent is a tense story revolving around a mysterious ring endowed with dangerous properties.
"Enjoy Your Show" by Christina Bergling, by far the most terrifying tale in the anthology, takes place in an empty movie theater where a young girl finds herself fighting for her life against an attack from a murderous stalker.
The deeply unsettling "The Blood Witch" by Nicola Lombardi is an outstanding tale of vampirism featuring an insatiable alien creature, and "A Disturbed Sleep" by DE McCluskey is an intriguing, scary story starting with an odd noise in the silence of the night and developing into a living nightmare.
Enjoy.