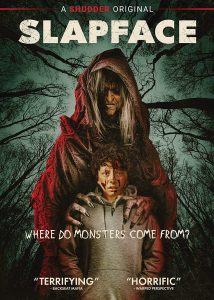 Slapface
Director: Jeremiah Kipp
Stars: August Maturo, Mike Manning, Libe Barer
Reviewed by Brian M. Sammons
Once more RLJE Films and horror streaming site, Shudder, have teamed up to bring a Shudder exclusive out on physical media, and I could not be happier. True, it was only release on DVD, but since many streaming movies never get a physical release (I am looking at the vast majority of movies on Netflix), I'll take what I can get. So, let's jump into this little film with the weird name and see what it's about.
Here a young boy named Lucas is picked on and bullied by pretty much everyone, including the one person he calls friend and the only family he has left, his older brother, Tom. In fact, the kid lives with the adult-aged brother as both of their parents are dead. But hey, at least they've got family traditions to enjoy, like the titular game the two bros love to play where they take turns slapping each other's face. Really, really hard. Fun. So into this confusing world of loneliness and violence that the boy lives in comes an abandoned building in the woods, and the monster that lives there. This monster takes the form of a stereotypical witch, but she doesn't want to eat our young protagonist. No, she "loves" him and wants to take care of him, even going so far as to crawl into the bathtub with him. Ewww. In all ways she becomes the mother that the boy is longing for, except for the occasional bout of black magic and murder. But is the wicked witch even real?
Slapface is creepy and atmospheric, it is both sad and funny at times. It is a small story, but really focused, that leaves enough up to interpretation to be interesting while not overplaying things and going into WTF territory, and I appreciate that restraint. The acting is all good, even by the child actors, and that's no mean feat. The direction is good and I love the look of the storybook witch and how she is used. She's more than an evil witch and with all the recent witchcraft movies we've been getting, I really liked that.
On to the extras that RLJE Films put out on this new DVD of Slapface. As this movie is only available on DVD, it's not exactly overflowing with goodies, but neither is it bare bones. There is a behind-the-scenes featurette, a collection of behind-the-scenes photos, and a Q&A video with the cast and director. Now as someone that loves director's commentary, I wish this one had that as an option, but sadly it doesn't. But I've seen much bigger films and much more expensive Blu-rays that didn't have as much extras as this disc does, so that's something.
Slapface feels like a bit of folk horror set in the modern day mixed with a metaphor on how and why kids become serial killers, and I like that mix very much. The look of the supernatural elements is great and the acting is more than solid, especially with the friend/not friend and how easy it is for her to turn on a dime, reminding us that no matter how horrible witches can be, kids are often worse. I enjoyed this story that was well told and made, and I can easily recommend it to horror fans.