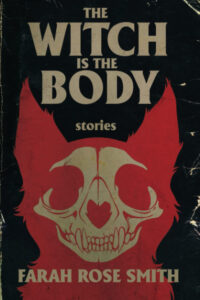 The Witch Is the Body
Farah Rose Smith
Wraith Press (December 23, 2021)
Reviewed by Ray Palen
Horror author and screenwriter Farah Rose Smith has collected a group of chilling short stories, some as short as one page in length, under the title of THE WITCH IS THE BODY. That also happens to be the name for one of the standout stories in this collection.
I am going to select a few of those stories which stood out personally for me:
"The Witch Is the Body" – the afore-mentioned title story begins with our narrator asking an honest question – 'sometimes I wonder why the witches I left behind as friends did this to me…why their curses and spells riddled my body with pain and deformity.' She then recalls, fondly, that there is no greater witch then the body she is in. This story gives us an insight into the lives of witches and how nasty they can get when they are mad at each other and become vindictive. The collective vindictiveness taken out on our narrator will become its own witch unto itself and God help anyone who gets in its' way!
'Gorch' – the word/name Gorch begins as a made-up idea or nickname that makes sense to no one but Martin. However, soon, others will learn what Gorch means to him and what it can do. His family, ex-girlfriend, and those who did not see things the way Martin Ronaldo does will soon learn.
'Between My Husband and the Wyrms' – symbolically, the wyrms coming from the husband could be seen to represent sperm cells. However, in this extremely short horror tale (barely a full page) that is chock full of ideas and imager, the reader is left with a lot to think about. The wife is pregnant in this story, but there is something else going on between her and her husband that is left for the reader to decide.
'A Thousand Alarming Presentiments Of Evil' – "The dead, by their nature, are not able to involve themselves in the affairs of the living." – Saint Augustine. This quote, which most fans of horror know to be untrue, opens this short story. The tale begins with some ancient religious history going back to ancient times and the writings of different monks. Each new addition to the written passages gets darker and darker and is in direct opposition to the words of Saint Augustine which opened things up.
I always enjoy reading work from horror authors I am not familiar with, and I saw much in the writing of Farah Rose Smith that excited me and had me wanting more. If, like me, you are also unfamiliar with her—THE WITCH IS THE BODY is a nice place to start.