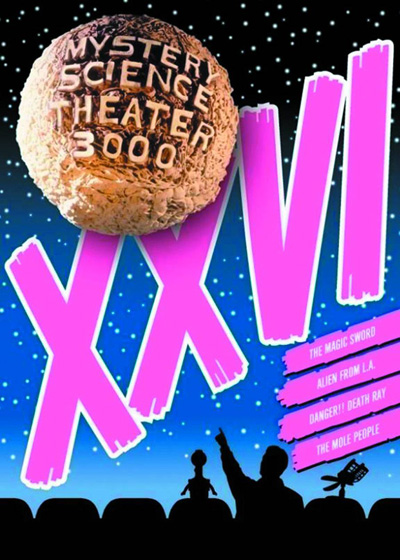 MYSTERY SCIENCE THEATER 3000: Volume XXVI
Created by: Joel Hodgson
Cast: Joel Hodgson, Michael J. Nelson, Trace Beaulieu, Kevin Murphy
 By Brian M. Sammons 
MYSTERY SCIENCE THEATER 3000 (or MST3K) was a comedy TV show that ran from 1988 to 1999 about a guy marooned on the Satellite of Love way up in space who had to watch cheesy B-grade movies as some sort of deranged experiment. In order to survive his mind-numbing ordeal, our hero made some robot friends and together they make fun of, or "riffed on", all the bad movies. As simple as that sounds, something that fans of bad movies have done for just about forever, it was revolutionary to see it on television, not to mention hilarious. So much so that even 14 years after its last episode aired, it still has a cult following, is constantly name dropped by comedians, and lives on in two distinct incarnations today. Check out Rifftrax.com and Cinematictitanic.com for more info on both of those.
Now why am I telling you about come comedy show on Hellnotes? Because more often than not it was horror and sci-fi flicks that the riffers at MST3K choose to sarcastically skewer. In fact, once the boneheads over at the Comedy Central channel cancelled the show, it found a home on the Sci-fi channel (what today is known as SyFy for some inane reason) for a few more seasons. Besides, it's Mystery Science frickin' Theater 3000! This is the good stuff, folks. So rejoice that Shout! Factory has just brought out another four disc set in MST3K: XXVI.
This set has a dose of Sci-fi, a bit of 60s spy action, some sword and sorcery fantasy, and vintage 50s monster goodness to round things off. The 50s flick is the oldest movie covered here and probably the best well known. It's The Mole People from 1956. As you might guess from the title, it's about a team of scientists and adventurers doing a journey to the center of the earth type expedition and the strange subterranean species they encounter.
Alien from L.A. from 1988 is the newest of the movies inflicted upon Mike and the bots, and yet it has ties to The Mole People. In this one the beautiful supermodel Kathy Ireland made her big screen acting debut as a nerdy L.A. teen that goes looking for her missing archaeologist father. Dear disappeared daddy was looking for a legendary underground civilization, so three guesses what Ms. Ireland soon runs into.
The Magic Sword from 1962 is pretty standard fantasy fare. In it an evil sorcerer kidnaps a beautiful princess so he can feed her to his pet dragon. A square-jawed hero, armed with the titular enchanted blade, and a group of knights ride off to save the damsel in distress.
The other 60s flick is Danger!! Death Ray, and yes, those double exclamation points are part of the official title. It's pretty much one of the many James Bound rip offs that came out in the wake of Dr. No. In it, some random Euro terrorist steals a real life death ray from NATO and threat the world with it. Enter superspy Bart Fargo (no really, that's his name) to save the day and sleep with lots of women. There's a good reason why they never made any more Bart Fargo movies, but that just means it's perfect fodder for the MST3K guys.
As for the extras that come with this set, Shout! Factory has few worth pointing out. There are four mini posters included with the boxed set, one for each movie. There is a short featurette on Bert I. Gordan, a well-known genre filmmaker from the 50s to the 80s. There is an interview with the director of Alien from L.A., Albert Pyun. There is another featurette on the making of The Mole People and another interview, this one with Mike Nelson about his life after riffing on the Satellite of Love. Original trailers for the movies and intro and outro bumpers from the MST3K show can also be found here.
MYSTERY SCIENCE THEATER 3000: Volume XXVI is a great MST3K collection. It really has a bit of everything: horror, sci-fi, fantasy, spies, and lots of comedy. For MSTies, this one is a no brainer. If you've never seen MST3K before, then this 'a little bit of everything' sampler is a great way to start. Consider it highly recommended.